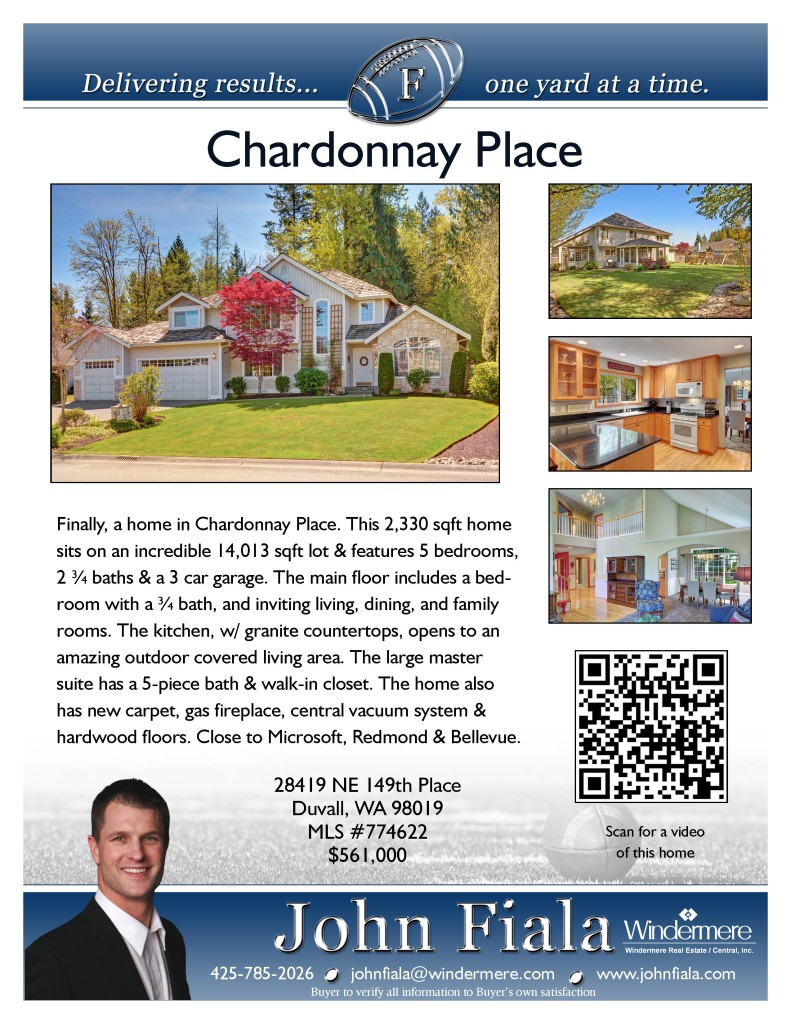 MLS# 774622
Finally, a home in Chardonnay Place. This 2,330 sqft home sits on an incredible 14,013 sqft lot & features 5 bedrooms, 2 ¾ baths & a 3 car garage. The main floor includes a bedroom with a ¾ bath, and inviting living, dining, and family rooms. The kitchen, w/ granite countertops, opens to an amazing outdoor covered living area. The large master suite has a 5-piece bath & walk-in closet. The home also has new carpet, gas fireplace & hardwood floors. Close to Microsoft, Redmond & Bellevue.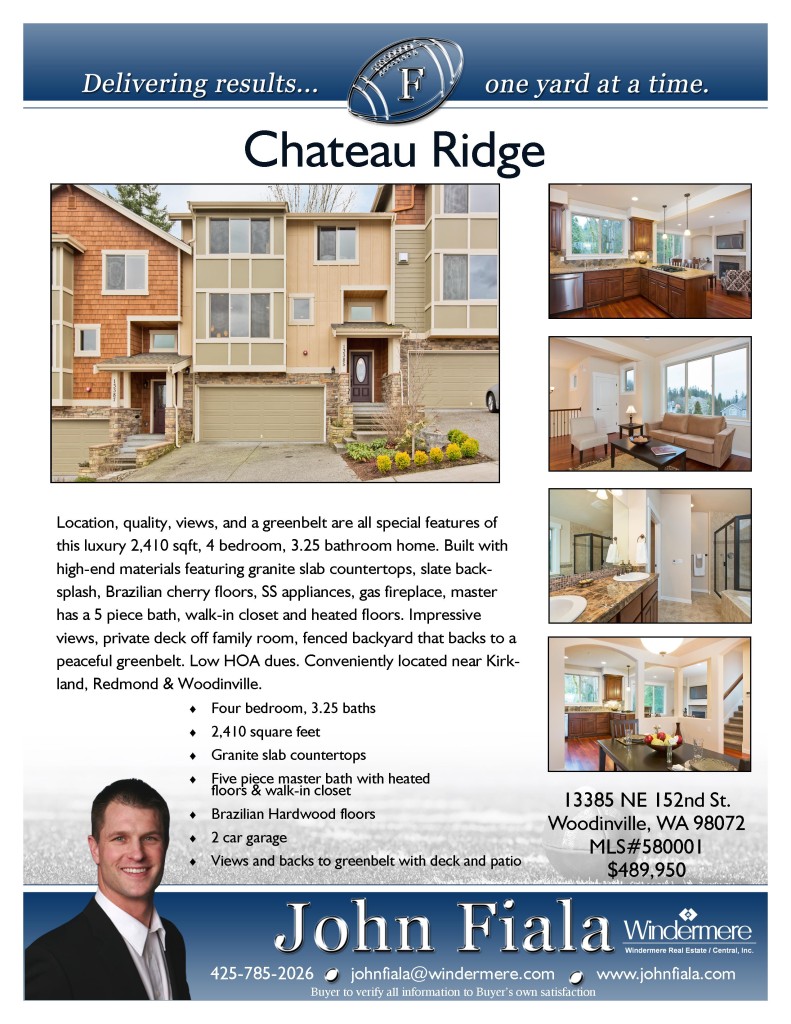 Location, quality, views, and a greenbelt are all special features of this luxury 2,410 sqft, 4 bedroom, 3.25 bathroom home. Built with high-end materials featuring granite slab countertops, slate backsplash, Brazilian cherry floors, SS appliances, gas fireplace, master has a 5 piece bath, walk-in closet and heated floors. Impressive views, private deck off family room, fenced backyard that backs to a peaceful greenbelt. Low HOA dues. Conveniently located near Kirkland, Redmond & Woodinville.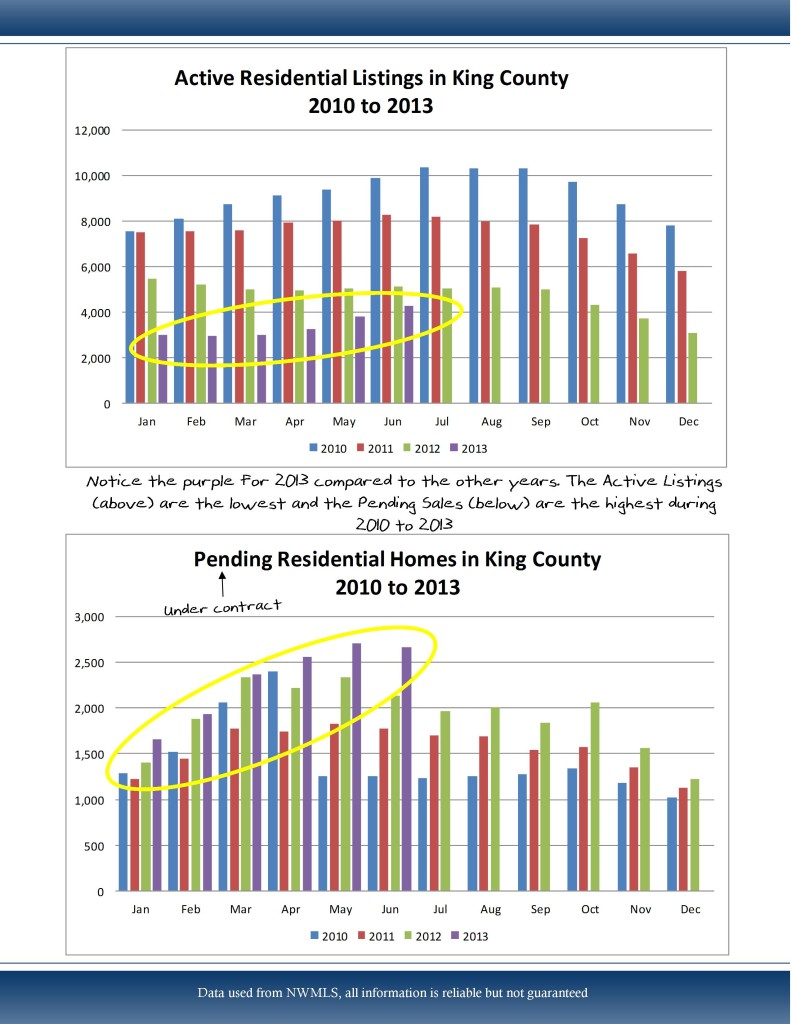 This information looks at the Active Listings for residential home and the Pending (under contract) residential homes for King County from 2010 to 2013. If you look at the purple lines for 2013, you will notice that the Active Listings are down and the homes Pending are up. We are starting to see more inventory on the market but there is still a high demand from Buyers.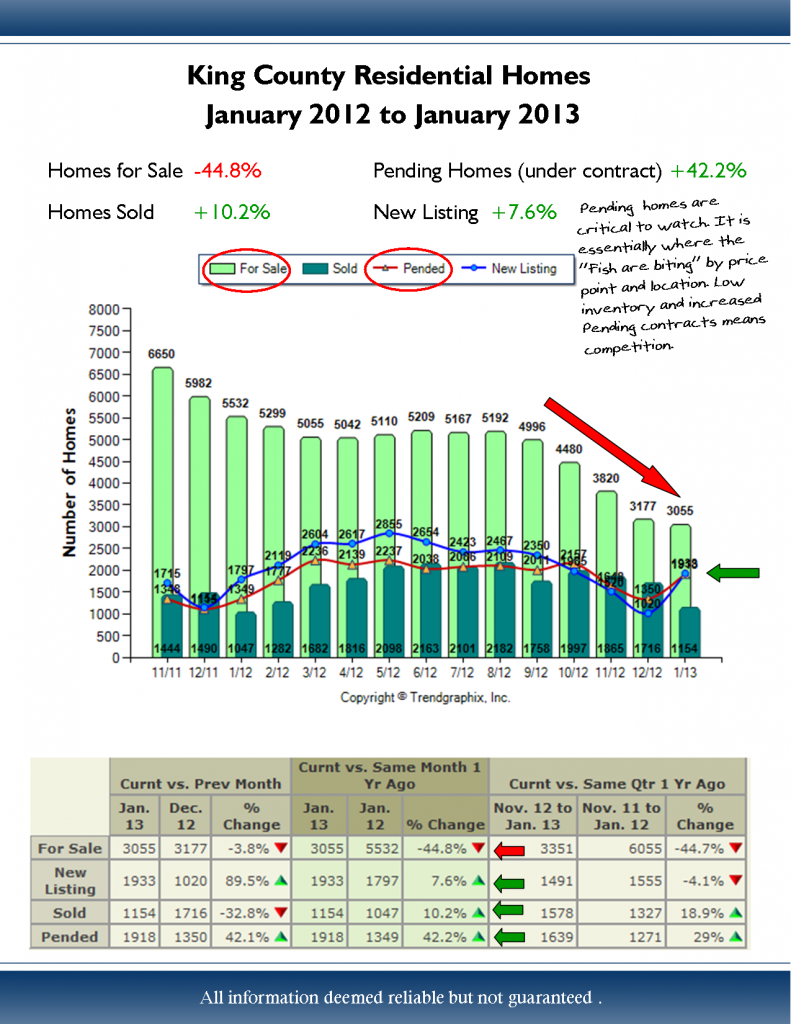 This data looks at residential homes in King County from 2012 to 2013. You can notice how the amount of homes for sale has dropped 44% from last year and that Pending homes (under contract) has increased by 42%. It is great time to consider getting your home on the market and if you are looking to buy a home, prepare for competition. Competition is area and price specific. If you have any questions about your area, just let me know.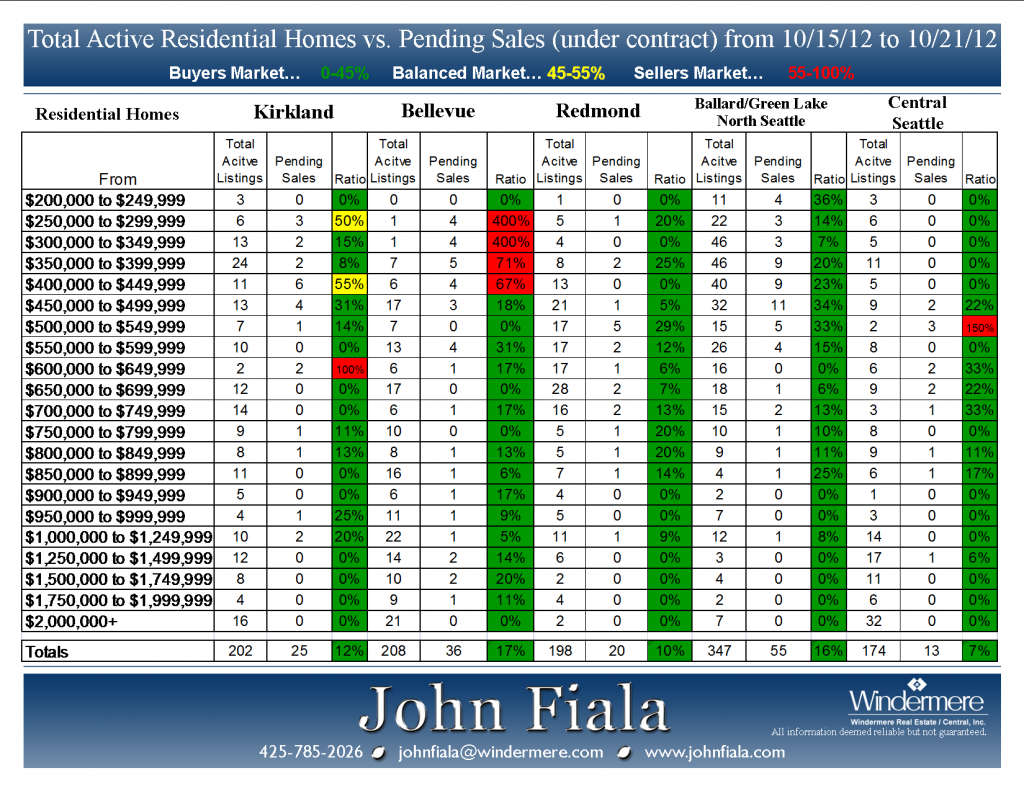 This chart looks at the active listings and pending sales for the date from 10/15/12 to 10/21/12. The pending sales (under contract) are for the previous seven days.  This shows where the market is hot and who can have an advantage in the market by location and price point, essentially where the fish are biting in real estate.
If you have "Bellevue" in your address, your area had the highest percentage of homes go under contract for the week at 17%. Normally that title goes to North Seattle. Notice in Bellevue the price range from $250,000 to $349,999. There were five homes in each price range at the start of the week and by the end of the week, four of them were under contract with only one still Active. If you are a seller in that price range, the fish are biting. Buyers, you have competition in that price range in Bellevue.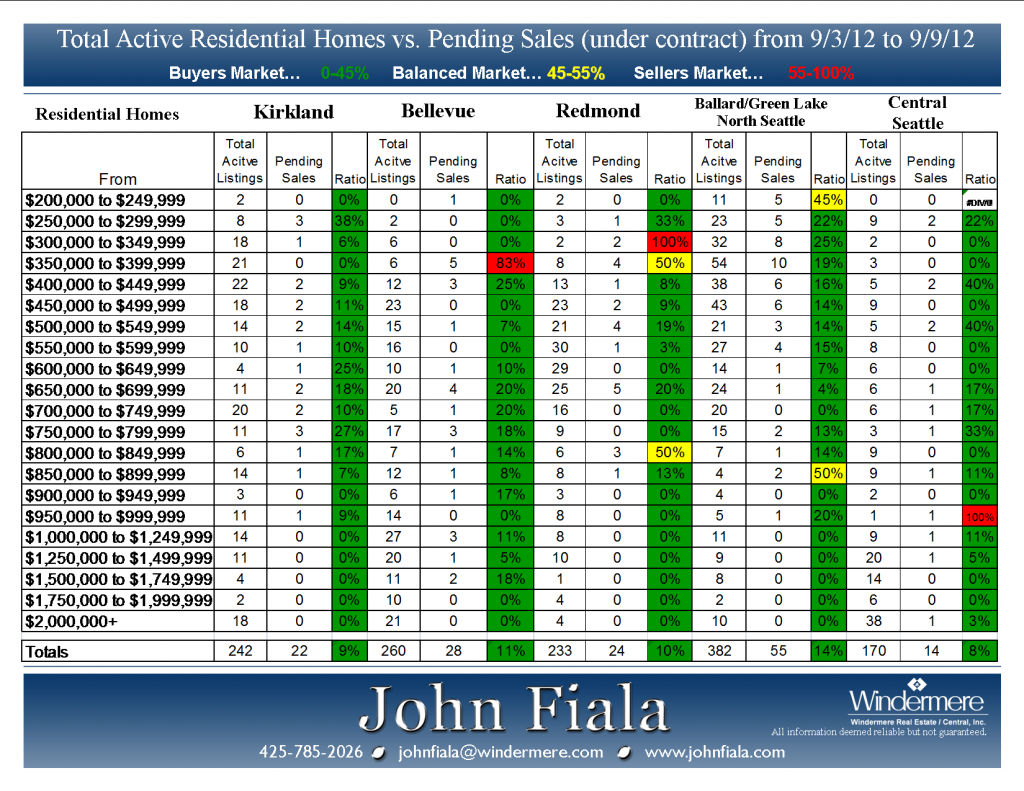 This information looks at the Active Listings versus Pending Sales for residential home for the week of September 3rd, 2012. This data shows the city and price range of the homes that have gone under contract in the last seven days compared to the active listings. North Seattle had the largest percent go under contract with 14% for the week. In Redmond, there were no homes that went under contract over $900,000 for the week and Bellevue was very active in the $350,000 to $399,999 range for Sellers. The chart below has more detailed information about each area and price range.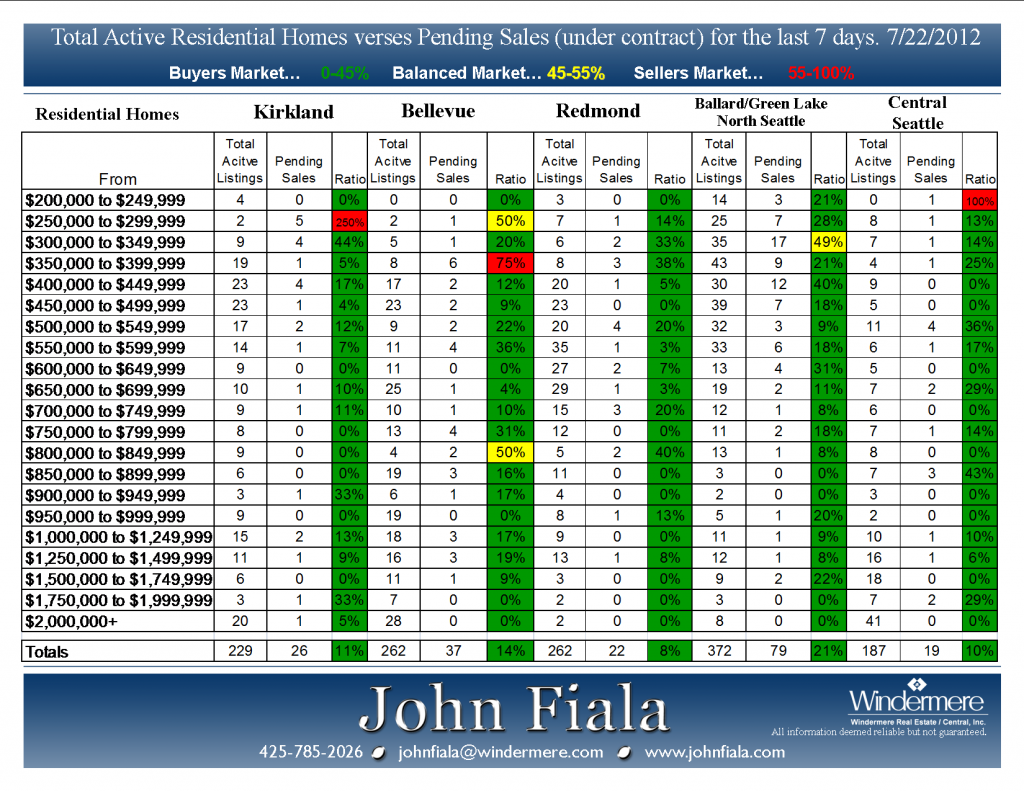 Here is a look at the weekly ratios ending on July 22, 2012 for residential homes in five areas. This information looks at what has gone Pending (under contact) over the last seven days. Of the five areas that I track, North Seattle had the highest percentage of homes go under contract with 21%. In Redmond, only 8% of homes went under contract. The hot price ranges for Sellers are in the red and yellow boxes below. You can see that in Kirkland, there are currently two homes active in the price range of $250,000 to $299,999 with 5 homes going under contract last week. You can look at your competition by price range and by your area to help you make an educated decision about listing your home or coming up with a strategy to buy a place. How does your area look?
Here is a good video that looks at the real estate inventory levels in King County Washington over the last five years. Inventory is down and pending homes sales are still strong. Enjoy the video.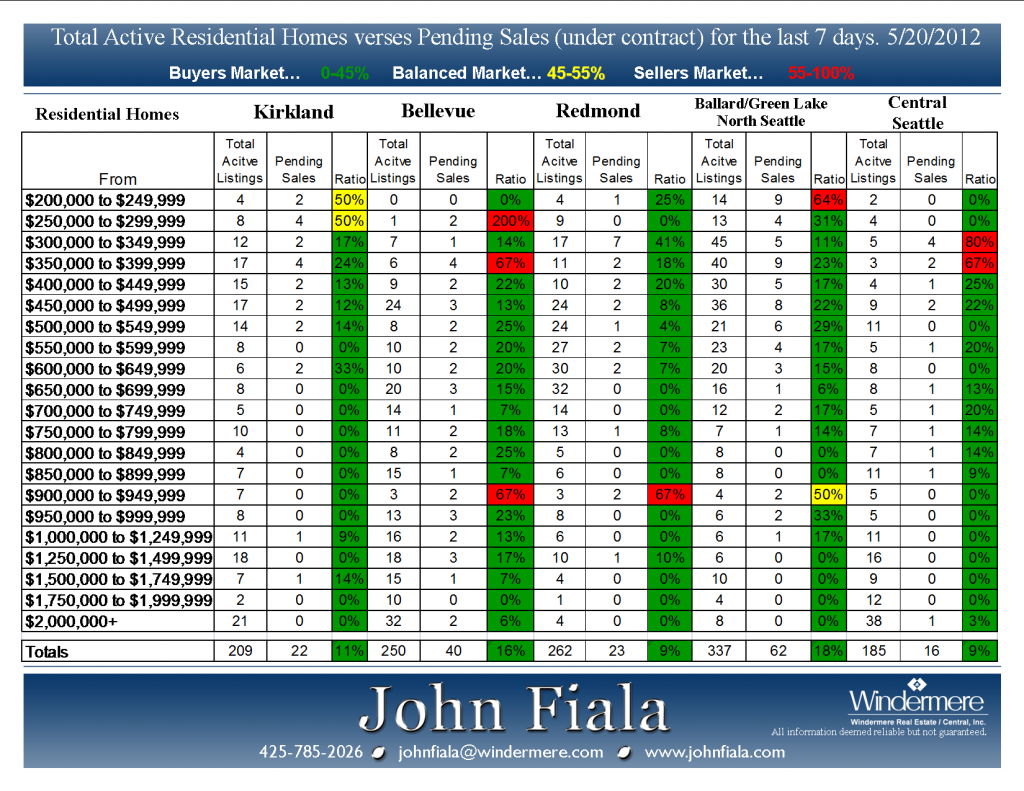 North Seattle had the highest amount of homes go under contract last week with 18% going pending of the five areas that I track for my blog. Bellevue had at least one home go under contract in each price range, even in the higher price ranges. The Red areas are considered Sellers markets. What does you area look like?